ETFE
Durable, highly transparent and very lightweight.
TensoSky® ETFE (Ethylene Tetrafluoroethylene) is durable, highly transparent and very lightweight in comparison to glass structures. ETFE is considered the material of choice for traditional skylight applications to long span structures and building facades.
ETFE
TensoSky® ETFE is used in buildings as a two or three layered, air-filled cushion, or as a single layer, cable-supported structure. When used as an air-filled cushion, the ETFE foil is supported by a lightweight aluminum frame. Due to its lightness, ETFE can be used where large expanses of glass would be too heavy, providing light and also improving internal building conditions, and thermal and acoustic insulation. Further, the cushions can be installed with electronic equipment and LEDs, or printed on with different colours and designs for elaborate building façade decoration and illumination.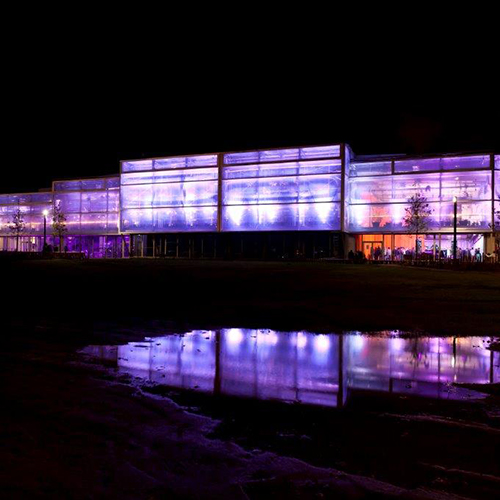 WHY USE TENSOSKY® ETFE?
Exceptional Light Transmission - ETFE films can be highly transparent (from 90% to 95%) and allow for the passing of UVs which are responsible for the promotion of photosynthesis thus facilitating plant growth.
Long Lasting/Longevity - Under exposure to environmental pollution, UV light, harsh chemicals or extreme temperature variations, ETFE does not degrade.
Solar Control/Shading - ETFE film systems can incorporate a number of patterns on one or multiple layers to alter their solar performance. The foil is printed with various standard or custom patterns. Colors can be introduced in a variety of ways whether it's applied during the film extrusion process providing a consistent tint in various tones from red to violet or adding lighting with unlimited color options.
Elasticity - While ETFE films are very elastic (up to 600% at breaking point), they are still structurally resistant. The tensile strength at the limit of elasticity/plasticity is 21-23 N/mm² but tensile strength to breaking point is 52/Nmm². For structural calculation a limit of 15 N/mm² is conservatively usually taken.
Acoustics - ETFE film has approximately 70% acoustic transmission
Sustainable/Energy Efficient - From extruding of the film to transportation to site, compared to other similar cladding material, little energy will be consumed thus reducing the overall carbon footprint. In addition to this, the nature of the product enhances the building physics through insulation and daylighting, therefore contributing to the global low energy aspect of the building.
Cost Effective - Due to the lightweight nature of ETFE, substructure support systems and concrete foundations can be designed more efficiently. ETFE systems also provide ample natural daylighting, thus minimizing energy costs by lowering the demand for indoor lighting.
Recyclable - Easily recyclable, waste from the manufacturing process or even old ETFE elements can be remolded into new ETFE products such as tubing com.
We look forward
to your inquiry!