Mak Quick Shelter
Flexible and quick solution.
With a wide range of applications, easy set-up, maintenance and transportation, Mak Quick Shelter is a flexible choice.



Mak Quick Shelter
Some of the great advantages of this product:
Wide range of applications is the main advantage. Mak Quick Shelter with normal specifications can later find another purpose and be used in a wide range of applications, such as for disasters and events, countermeasures against extreme heat, temporary facilities, children daycare facilities, advertising and other purposes.
Easy Set Up: Mak Quick Shelter provides excellent functional spaces which can be set up in a short time of only about 10 minutes. Because of this characteristic, product was named "quick" shelter.
Easy transportation: Mak Quick shelter can be easily transported in a car trunk, with no need of transportation via truck.
Easy maintenance: Quick shelters stay inflated without the continuous use of air pump. They are made of waterproof high quality material, which is fire rated and easy to clean. Repair kit is included with easy to use instructions.
Model number
Specification
Plan area・Estimated capacity
MQ-342A
span x length x height:3m x 4m x 2.0m
Weight: Approximately 40 kg
12 m2 , 6-8 people
MQ-442A
span x length x height:4m x 4m x 2.5m
Weight: Approximately 55 kg
16 m2, 6-8 people
MQ-462A
span x length x height:4m x 6m x 2.5m
Weight: Approximately 75 kg
24 m2 , 12-16 people
MQ-562A
span x length x height:5m x 6m x 2.7m
Weight: Approximately 95 kg
30 m2 , 15-20 people
*Our standard model is MQ-442A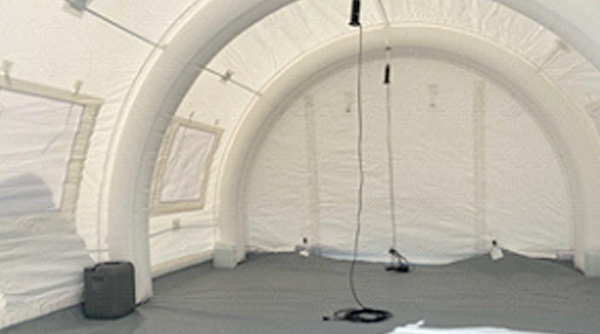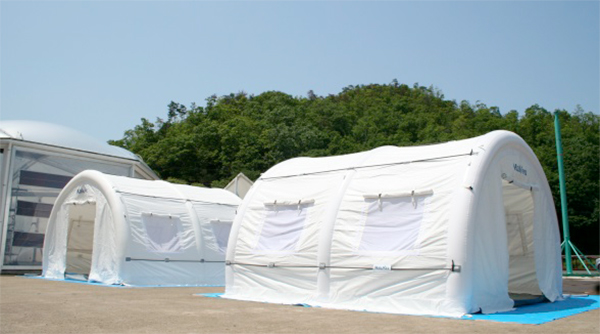 We look forward
to your inquiry!