PVC
Very popular and widely used.
PVC coated polyester fabrics (PVC-PES) are very popular and widely used in membrane architecture. PVC-PES is a commercially "economical" material compared to traditional roofing systems and other membrane materials. The classic PVC-PES membranes with a white or light surface reflect the sun's rays and thereby reduce the heat transfer. The indoor temperature in buildings remains endurable, even in hot weather conditions. PVC-PES membranes are usually coated with a protective varnish based on PVDF or acrylic. The coating protects the PVC-PES material from early and unimpeded aging. PVC-PES is a thermoplastic and can therefore be recycled. Many manufacturers take back the material after use. The recycling products are returned to secondary materials management.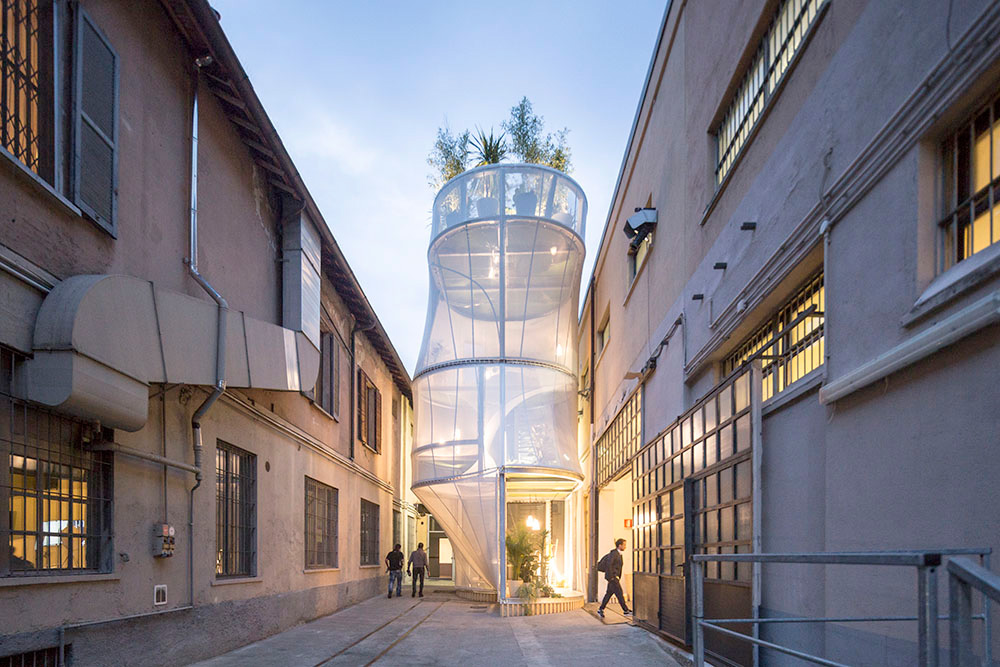 PVC-PES materials are available as "mesh fabrics" and fully coated fabrics. An extensive range of colors is applicable. Sufficient strength of the membranes ensures the variety of uses e.g. for stadium roofs, air domes, facades, tents and advertising spaces. PVC-PES products expand the area of application in interior design and for the design of fair trade stands.
PVC membrane is a cost-effective alternative to traditional roofing systems and can be produced in a multitude of colors to coordinate with individual building project needs. When produced in bright white, this flexible fabric membrane reduces radiant heat gain, keeping interior temperatures cooler during warmer weather conditions.
PVC membrane is commonly coated with a protective acrylic or PVDF top coat with a design life of approximately 15-20 years. If PVC membrane is exposed to high levels of UV the design life of PVC is approximately 10-15 years.
Technically, PVC is a molecule comprised of carbon, hydrogen and chlorine. The combination of these elements results in a single-ply membrane that is simple to manufacture. During fabrication, remnants can be recycled and melted down to be reproduced, resulting in less waste. Because PVC is a thermoplastic, this membrane can be softened into a semi-solid state and infused with UV light inhibitors and anti-soiling fungicides. During installation, multiple sheets of the fabric can be overlapped and fused together in a process known as weldable seam technology. Once cooled at room temperature, these sheets form one continuous membrane.
PVC TIO2 – AIR PURIFY
PVC coated with non-toxic and flame-resistant TiO2 (titanium dioxide) produces a photocatalytic membrane that functions like the leaves of a tree, providing shade and comfort while actively neutralizing airborne pollutants and odors. The unique self-cleaning benefits of TiO2 allow the material to break down dirt and other organic materials through a chemical reaction with the sun's UV rays, oxygen and water vapor, present in the air.
This reaction, known as oxidation-reduction, converts these materials into harmless gases and natural components without using excess chemicals, solvents or water. The resulting sediments are simply washed away by rain. As a result, the membrane material remains bright and clean, reducing the need for frequent service.
We look forward
to your inquiry!